BRAZIL!!!!
Who would have thunk it? An old stick-in-the-mud like me spending almost 2 weeks in a far and mysterious land! Specifically, the wonderful Anima Mundi animation festival! But I did, along with fellow presenters Kirk Kelley of Laika Films (with wife Wendy); Mark Walsh of Pixar; Tee Bosustow, documentarian and son of Steven Bosustow of UPA; and Mikhail Aldashin, Russian animator (with his fearless documentarian wife Milana). What a blast! Thanks to Léa Zagury (organizer), for convincing me to come! It was the most fun I've had in... ...uh... ...possibly ever???
No real chronology here. Here's me, right outside the hotel in Rio. It's mid-winter there, and therefore the same temperature as mid-summer at home. The water's warm, but the days are short. (Photos with me in them were not taken by me (obviously), but by Mikhail Aldashin.)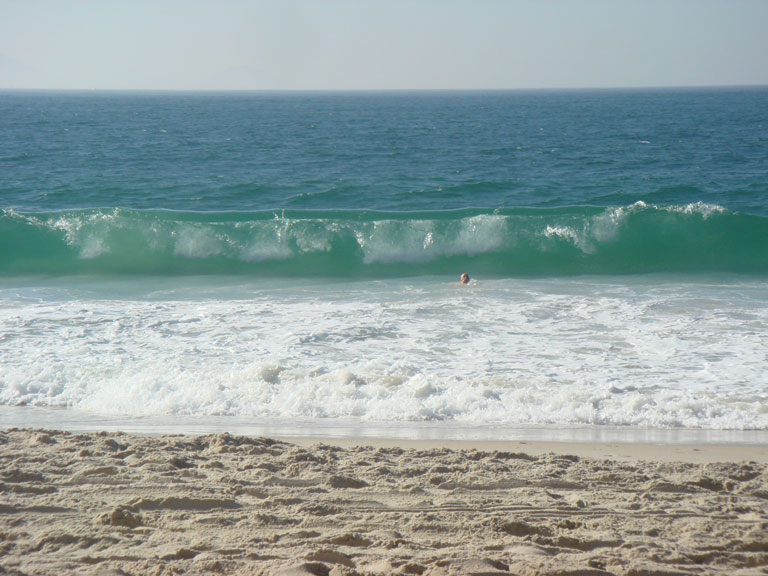 But the nights were even more fun. We usually started eating and drinking around 10:30 or 11:00, rarely getting to bed before 2. Here's a typical evening, with me trying to use natural lighting.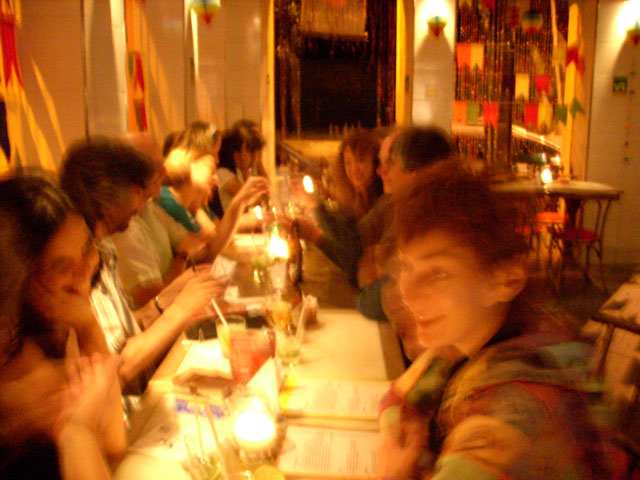 Daytime Activity... ...the Botanical Gardens with Kirk, wendy, Luciana (official guide) and Tee.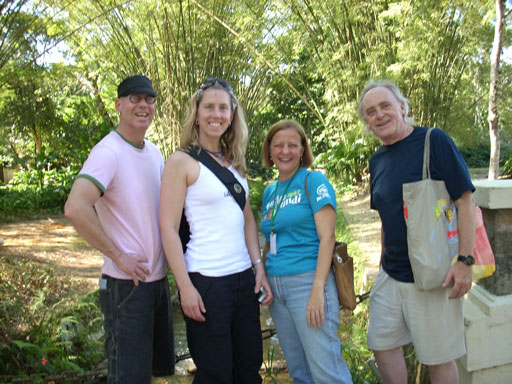 They have Triffids... ...remember the movie?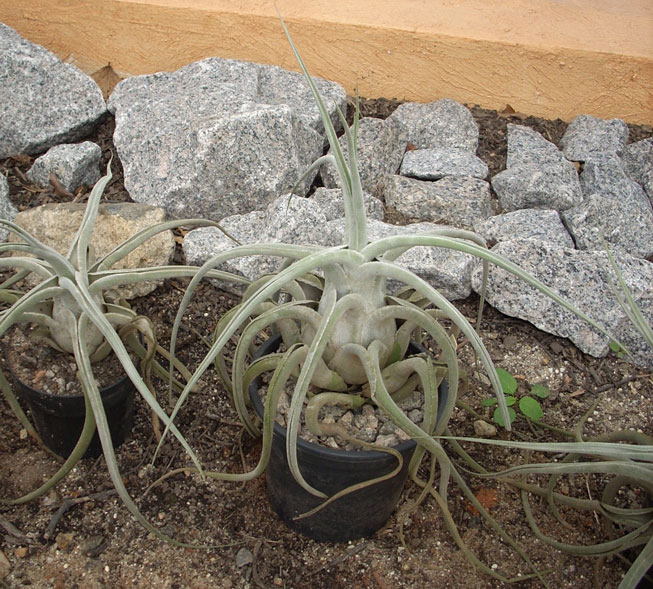 They have monkeys instead of raccoons.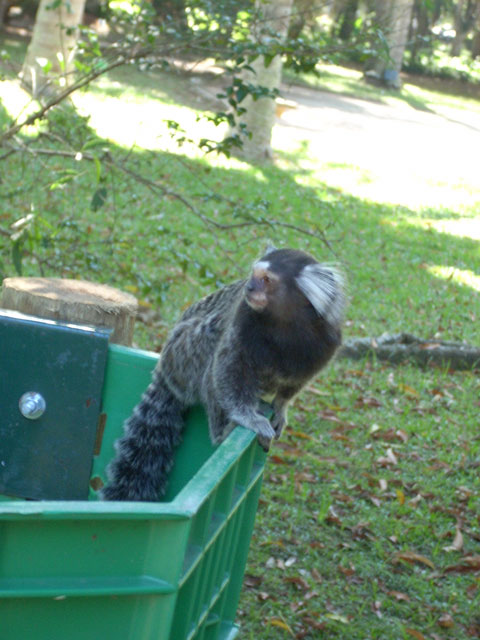 One night Léa said "Let's go to this place I've never been in a really dangerous part of town." I attempted to decline, but Léa can be compelling. So we drove through various gangs that tried to stop our car, and arrived safely. We went through the metal detectors and found ourselves in this Huge market, which included many bars and restaurants, a big crowded dance floor.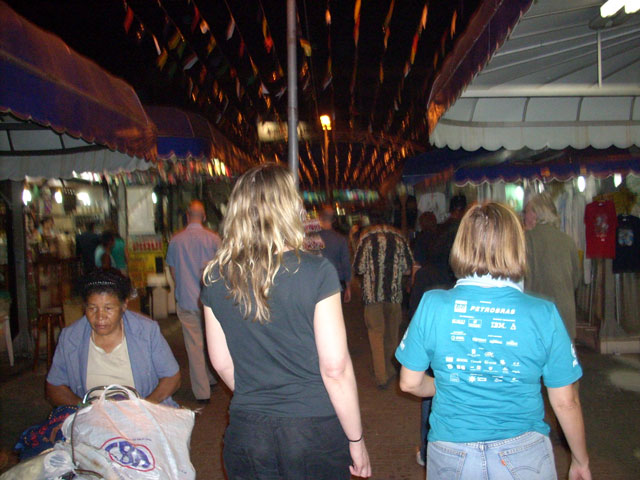 We went up to a mezzanine restaurant, bought come caipirinahs, and started dancing between the tables; this is a frame of video...
left to right: Kirk and Wendy, Léa, Tanya, Mark, Me, Tee.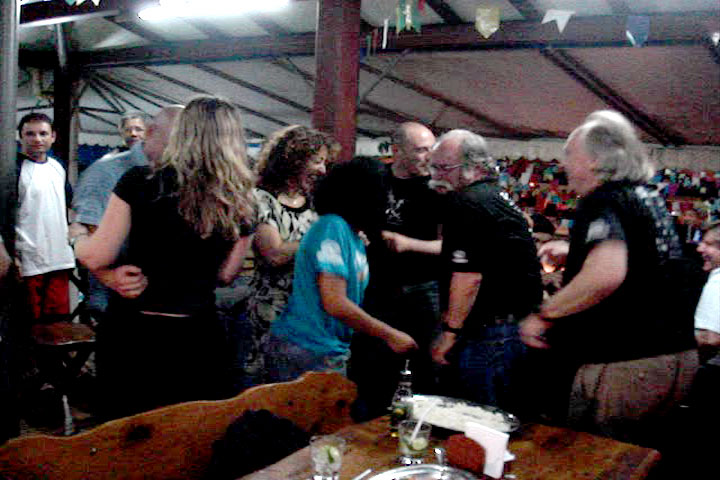 Below, the stuff we drank every night; Caparinahs!
Léa's expressions can be animation lesson...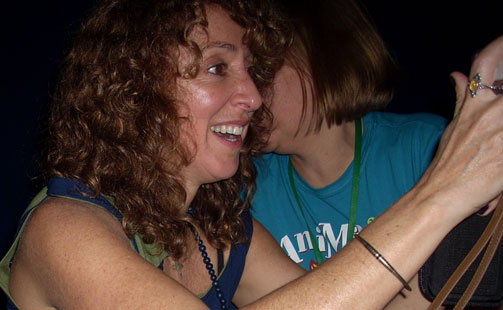 (that's wendy peeking out from the left)
Léa with Mikhail, Tee, Andrea.... ...near the end, when everyone was getting a little tired!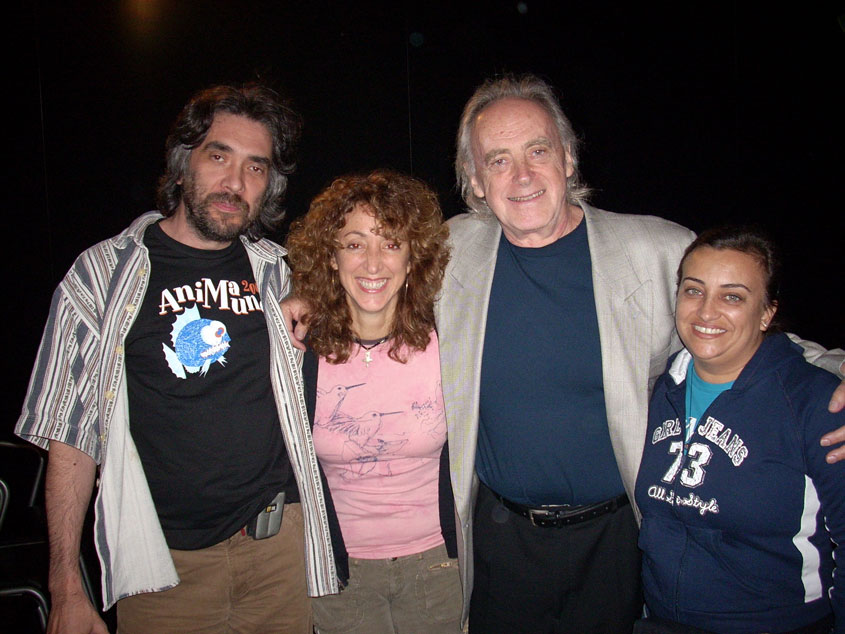 Milana, the Fearless. She shot everyone and everything with her video camera; even went off to "dangerous" parts of town by herself to gather raw material. I look stunned, she looks great. So, what else is new?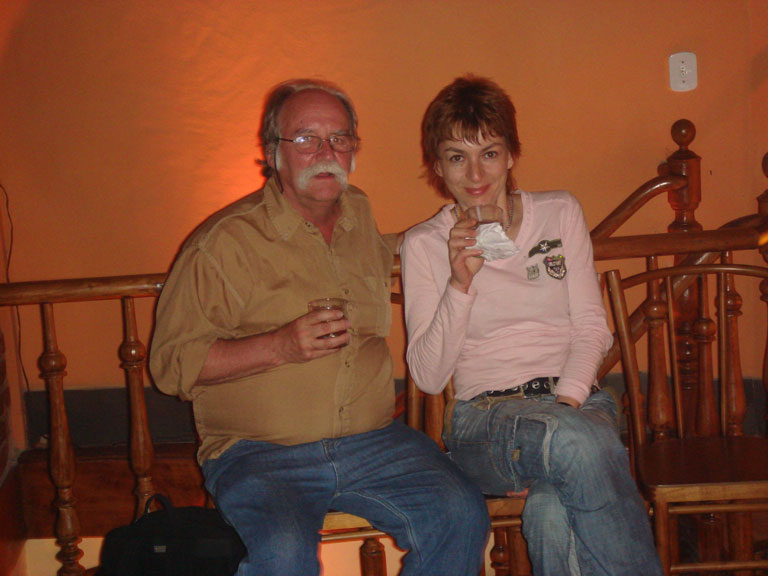 And here she is, at work...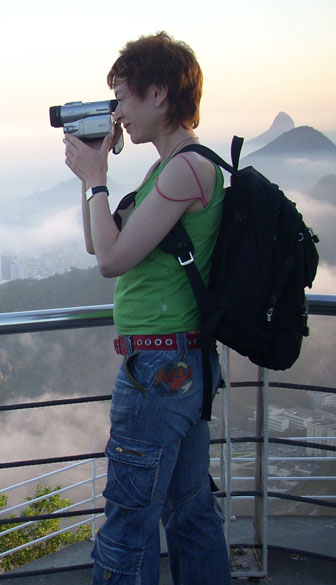 Another night, and Léa once again takes us to a great restaurant at the top of a creepy hill. Here she is looking dark and mysterious.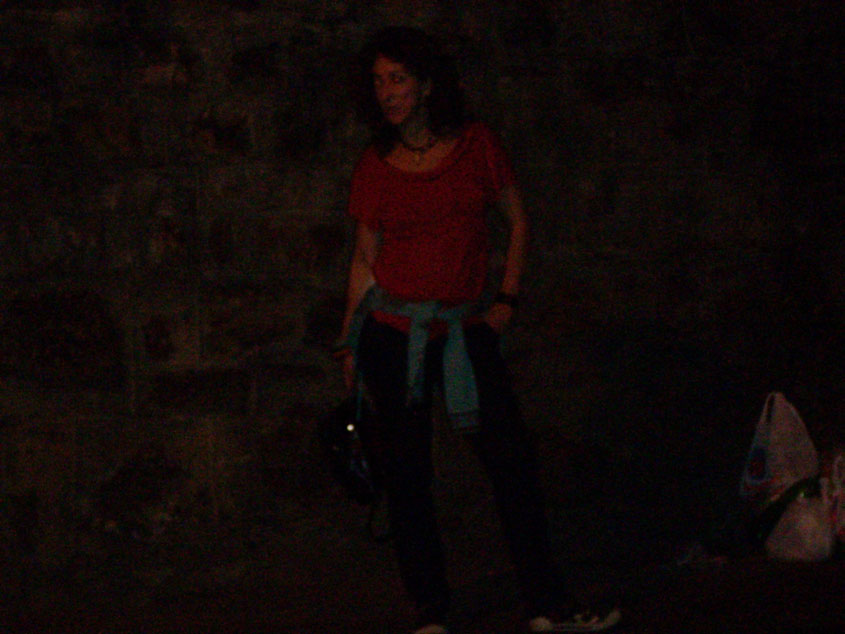 ...and here we all are... ...it really did look and feel very spooky and dangerous....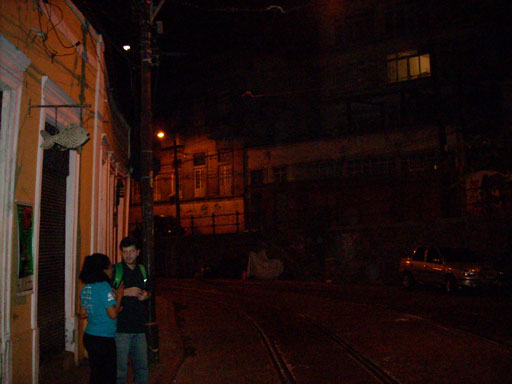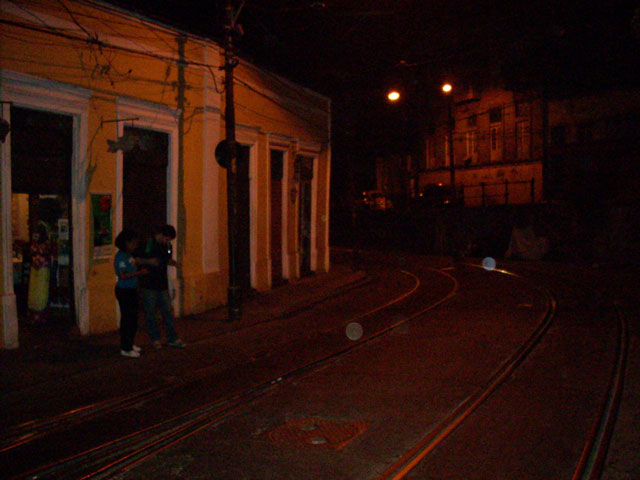 ...inside another great evening of fun. Tania in front. Milana looks pretty serious about whatever she's saying to Léa!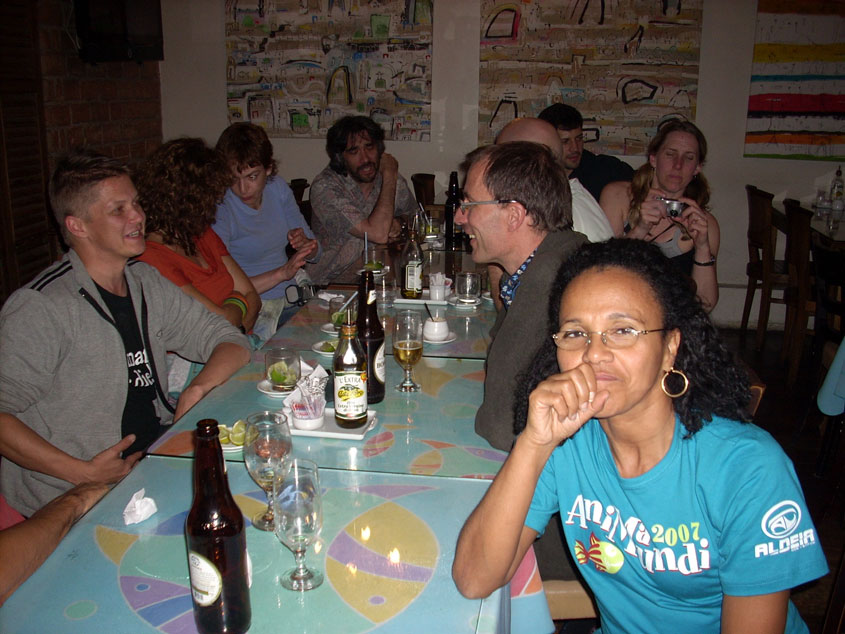 This is the Big Art Deco Jesus seen from below. You can see him from almost anywhere in Rio.
We got closer...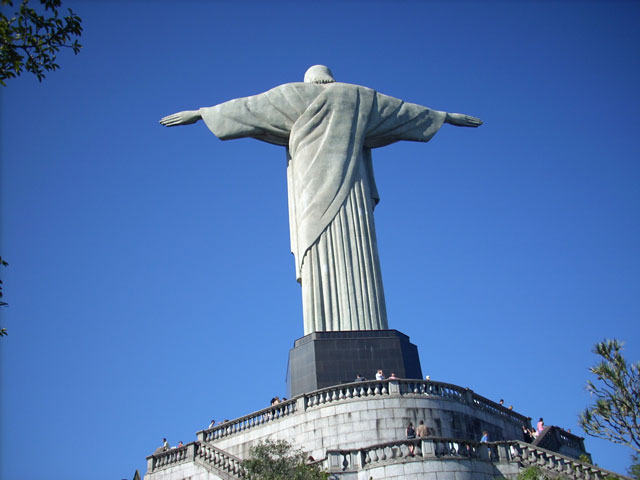 He seemed to be saying "Remember those loaves and fishes? This big, I swear!"
One day, Tee decided to put on some fancy duds!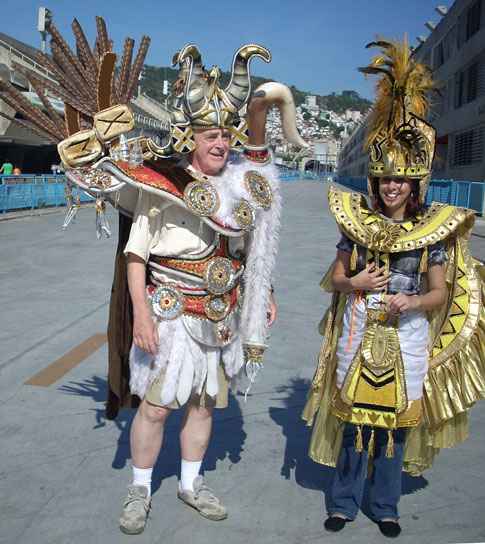 One evening we swam here at dusk, but it was really only 5:30....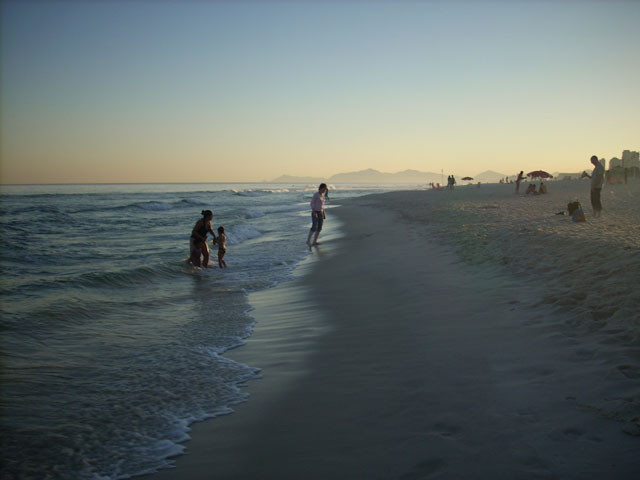 Near the end of our journey, in Sao Paulo, on the only really cool evening. Wendy, Kirk and Marcos. Wendy had had a sink fall on her foot earlier in the day, was being brave. A few capirinahs later, we were all pretty jolly.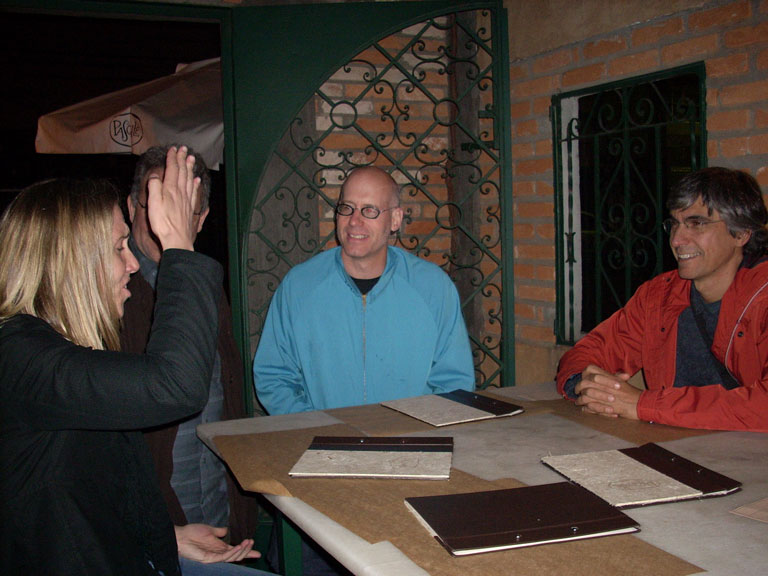 I've hardly begun to scratch the surface of all this things we did, and fun we had! After one day, Kirk asked me; "Can you believe we've only been here 24 hours?"... ...we'd done so much!
Wow!